Introduction: We extend our sincere thanks to all who attended Yateley School's Open Evening on 27 September 2023. Your presence made it a memorable occasion as we (hopefully!) showcased our school's excellence and commitment to education.
Tours and Mr. German's Talk: A special thanks to those who joined our school tours and attended Mr. German's talk on our vision and values. Hopefully everyone feel they had a sense of what we're really about at Yateley School! If you missed it or wish to revisit, you can watch the headteacher talk here.
Exploring Our Departments: Our diverse departments offered exciting learning opportunities for the Year 6 students (and parents?!) who visited us on open Evening. You can catch a glimpse into the experience by viewing our Department Tour video here.
Next Steps – Year 7 Admissions: For Year 7 admissions, please start the application process through Hampshire Admissions here. We also have some helpful guides available below.
Contact Us: Feel free to reach out with any questions or assistance needed at admissions@yateley.hants.sch.uk or by phone at 01252 879 222.
Stay Connected: Stay informed about Yateley School by following us on Facebook and Twitter.
And finally: Once again, thank you for joining our Open Evening. We look forward to the possibility of welcoming your child into our school community. If you still have unanswered questions then please don't hesitate to contact us and we'd be delighted to help!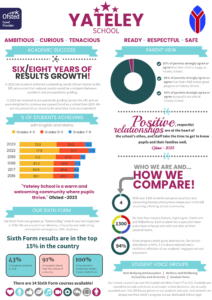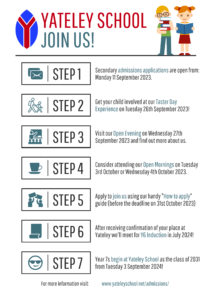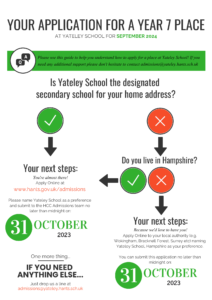 Moving Forwards!
Our school continues to evolve and grow with our highest number of applications in over five years. We highly recommend coming to see the school in action and get a taste of what we can offer!
New Pastoral System
Our pastoral system has been completely refocussed.  We started with four new houses in September 2015 and these are well established, providing the security and sense of belonging every child needs.
Join Our Sixth Form
If you are interested in joining our Ofsted Outstanding Sixth Form then please visit
Year 5 Introduction Video
View our Year 6 Taster Day video below and get to see what our future Year 7 students got up to!
Year 5 Introduction Video
View our Year 5 Introduction video below and get your first ideas about what life at Yateley School is really like!