Year 9 Options
If you are visiting this page as a parent you may wish to see our Year 9 Parents' Evening presentation here.
Welcome
Welcome to the GCSE option process! The subjects and qualifications you study over Years 10 and 11 will affect how you spend your time during your next two years at Yateley. It could also help set you up for the career or college course you want later on, so it is a very important process! Below is an outline of the important upcoming events:

How do I choose my options?
There are some subjects so important that everyone has to take them, but you have option choices in Year 9 that are the first steps in deciding your future. To help, start by asking yourself what you enjoy doing and what you're good at.
Think about:
What you're interested in: it could be other cultures and languages, writing projects, helping people, being outdoors or designing things.
What types of activity you enjoy most – working things out and thinking them through, practical activities or artistic options like painting, acting, drawing or performing music?
What you're like at home, as well as in school – what skills have you developed following outside interests?
SELECTING YOUR OPTIONS USING SIMS OPTIONS ONLINE
Students will make their option choices using our new online options system:
https://www.sims-options.co.uk
When the online system opens, students will be sent an email with a link to the system to allow them to register. Full instructions will be emailed to both parents/carers and students shortly before the online system opens. There are two types of account:
| | |
| --- | --- |
| Parent/carer accounts: | Parents will be automatically linked to their child and will be able to see the four options (and one reserve) that their child has selected. |
| Student accounts: | Students will be able to make their option choices online (including their reserve option) and update them until the deadline. |
Subject combinations not allowed:
The following subject combinations are not allowed because of the nature and content of the course are too similar.
Food Preparation/Nutrition and Hospitality and Catering
3D Resistant Materials and Graphics
Physical Education and BTEC Sport
Business Studies and Tech award in Enterprise
Yateley School Options Booklet 2020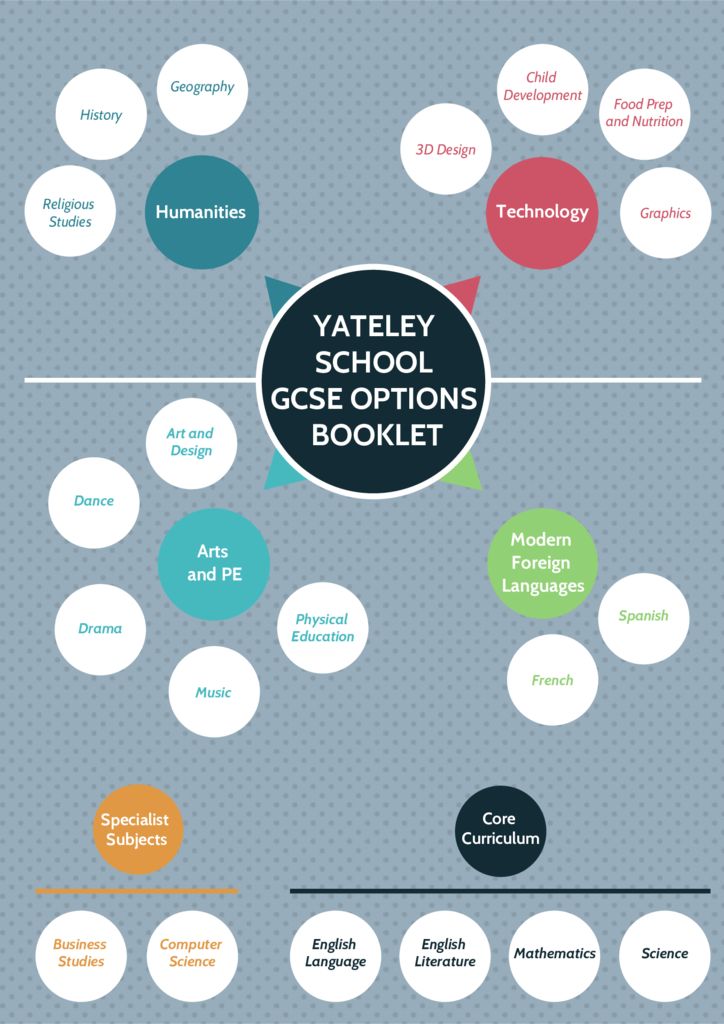 What is the English Baccaleurate (Ebacc)?
The EBacc collection of subjects is not a qualification in itself, rather a collection of subjects that if a student takes them (and passes) they are said to have achieved the EBacc. The EBacc is recognised as a measure of student achievement by both employers and universities.
The EBacc will be achieved by students who achieve Grade 4 or above in English language, mathematics, two sciences, a modern foreign language (French or Spanish) and a humanity subject (geography, history or computer science).
Should I take the English Baccaleurate (Ebacc)?
Some schools insist that students take the EBacc collection of subjects. The government's ambition is to see 75% of pupils studying the EBacc subject combination at GCSE by 2022, and 90% by 2025. At Yateley School we make the EBacc available to all students but we do not insist on it. Parent and student feedback has consistently shown us that the EBacc should not be compulsory at Yateley School and that students should not have their choice restricted.
Our vision for our students is that they engage with the options that they are passionate about whilst leaving their options open for their future study and employment. As such, we do not insist on the EBacc but we do recognise that should a student opt for the suite of qualifications it can add value to their results when viewed by employers or universities.