Yateley 50th Celebrations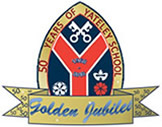 Events
Yateley Ramble – Saturday 30 June
Open to the community.
A walk of 5 miles/8km – 2.5 hours walking plus stop for lunch
Route: From the school, onto the Common by Monteagle Scout Hut, returning via Wyndhams Pool and the Cricketers.
Meeting: 10.45 onwards at Yateley School car park (parking permitted) for departure at 11.00 am
Pub Grub: Approximately 12.30 pm at the Ely on London Road, GU17 9LJ. www.oldenglishinns.co.uk
Cost and registration: No charge or registration for the ramble itself needed – just turn up. But you will need to pay for your own lunch if you plan on eating in the Ely for the lunch break. If you are, you should book with the Ely at least two weeks in advance to be sure of a place. Telephone the Ely on 01252 860444 and tell them you are with the Yateley School birthday ramble.
Dogs: You may bring your dog but please be mindful that some people on the walk may be nervous about dogs. Dogs may not be taken into the Ely at lunch time
---
Trip down memory lane –  Saturday 7 July
Morning: 10.00am-12.30 pm or
Afternoon: 2.00 pm-4.30 pm.
Same programme for both. Just select your preference when making your booking.
Open to former staff, students and parents, and current staff and students.
Where : Yateley School, come to Reception.
Renew old acquaintances over a cream tea
Tour of the school.  If you were in the class of '68, or even '78, '88, there have been lots of change
We are delighted to welcome former student, Henry Fricker, to entertain us at this event
Reminisce at the memorabilia exhibition
Watch the archive video show
Win a raffle prize!

Buy your tickets £8 per person  
---
Quiz Night – Saturday 7 July
Open to the community.
Where – Yateley School Main Hall
Doors open – 7.00 pm
Quiz starts at 7.30 pm and will finish approx 10.30 pm
Cost £60 per team including supper. Maximum number in team is 6.
Supper choice: fish, sausage or chicken and chips. Vegetarian option also available. Team leaders will be asked in advance to provide food choices.
Bring your own drink (and glasses) and nibbles
Raffle
Join us for an evening of fun!
Decide your team's name and buy your tickets here

Buy your tickets £60 per table (six people). You will be asked to fill in your team's name.
Short of a team member or two? Want to go but not in a team? Email us and we can matchmake. You might make up the dream team!
---
Fun run – Sunday 8 July
Open to the community
Where: Yateley School top field
When: 10.30 am registration. 11.00 am first run. Please arrive on time for registration.
Parking is limited and the organisers request that you walk to the event if possible
FANCY DRESS VERY WELCOME!
Spot prizes
Prizes for best fancy dress
Egg & Spoon race – free
Noddy car rides (free – donations to our Jubilee fundraising gratefully received)
Cake sale
Spectators welcome to join us (free – donations to our Jubilee fund raising gratefully received) – fancy dress welcome!
THE RUN
No winners or losers – just run for fun! (or walk if running is a bit of a challenge!)
Medals for all finishers
Course for adults (16 and over) – choice of approx 1500 metres (one lap round the field) or approx. 3000 metres (two laps)
Distances for children (3 years and above) will be age related
Bring your Registration ID (shown on the email response to your entry) on the day, to get your number and be assigned to a run group
No entries on the day
FOUR-LEGGED RACE – Former Yateley Sixth Formers relive your youth – current Yateley Sixth Formers show 'em how it's done! No advance booking £5 payment on the day per team.  Over 16s only. 1st, 2nd and 3rd prizes. Please bring your own ankle ties.
RUN FOR THE LOO – Be sponsored for the FOUR LEGGED race – raise funds for the school's GOLDEN JUBILEE fundraising and your team gets FREE entry. Download the sponsorship form here and bring a copy of the completed form to the fun run. Prize for the team that raises the most money.

Register for the fun runs – £2 adults, £1.50 children
---
Launch of the 2018 Yateley Young Designers Exhibition and new award – Tuesday 17 July
As part of the celebration of the school's 50th birthday, the school will be presenting a new award,  for outstanding achievement and contribution to Design & Technology. This will be presented by Terry Pettengell, our Deputy Headteacher and teacher of Design & Technology, who was in the class of '68.
---
Disco – Friday 20 July. 8.00 pm
Open to: former staff and students, present staff, present students over 16. Sorry, no children
Where: Bistro 19, Chandlers Lane, Yateley GU46 7SZ
Disco
BBQ supper included
Photo booth

Buy your tickets £20 per person
---
Birthday finale – Friday 14 September
This is the occasion of the raffle draw and a short ceremony to mark the birthday celebrations. Attendance by invitation.
---
St Peter's Church at Yateley Centre – Sunday 23 September
Open to the community
Special service at 10.00 am dedicated to the school's birthday. The Church at Yateley Centre also celebrates a special birthday this year – 30 years.
---
Sponsored Sessions at Yateleys Health & Fitness  Club – during June and July, details to be confirmed.
School events 
Story writing competition – launch week beginning 30 April, closing date, Friday 15 June, 1.00 pm
Student staff obstacle race – Wednesday 27 June – lunchtime
Attempt to get our second entry into the Guinness Book of records – Friday 29 June
Yateley School Special assemblies – Friday 21 September. School event
---
Other activites
Memorabilia display – photos, year books. Have you anything to contribute? Email sarah.miller@yateley.hants.sch.uk with details
Where are they now?  Booklets with news from former students. If you are a former student please contribute. Thanks to those who already have contributed, but we still need more news.  http://www.yateleyschool.net/where-are-they-now/
Birthday celebration bunting – pennants made by students, staff, former students, Governors and Yateley's community goups
Our birthday logo was designed by students who entered a competition. Large entry! Well done everyone
Community events – students visiting and entertaining Yateley's retiree groups and welcoming them into school
School history
Time line wall display 1968 1993 2008 – students are working on this display
Raffle – lots of excellent prizes. Tickets on sale soon.
Sponsored toddle and picnic. In May the Nursery is having a sponsored toddle and picnic commemorating the school's 50th, the Nursery's 25th and the Royal Wedding. Private event.
---
Volunteers needed
Volunteers needed for the Trip Down Memory Lane
Saturday 7 July
Morning: 10.00 am – 12.30 p
Afternoon: 2.00 pm – 4.30 pm
Adults/sixth form volunteers
• Registration desk
• Preparing tea/coffee and plating up scones
• Waiters/waitresses
Years 7-10, Sixth form and staff volunteers needed for tours of the school (lots of them!)
We also need the services of a qualified First Aider
If you can offer your help with any of these jobs can you email birthday@yateleyschool68.co.uk
Tell us:
Your name
If you are school student the year you are in
Whether you want to do morning, afternoon or both
Your first preference for the job you would like to volunteer for
Your second preference for the job you would like to volunteer for
Contact telephone number
We will also be seeking volunteers for the fun run on 8 July – more news on that soon
---
Fundraising
We are hoping that some of our events and activities will be successful in raising funds for the school. For example, we have been fortunate in that local businesses have donated some very generous prizes for the raffle. So, where is the money going? To go towards the refurbishment of the students' toilets. In these austere times of budget constraints, schools are having to prioritise their spending, and spending on teachers, resources and school security are, as we would wish, always top of the list. Toilets always have to miss out. Help us fill that gap and make our birthday project flushed with success. Please dig deep into your pockets to support our fundraising efforts. Ask any student or member of staff if they would support this cause.
---
Sponsorship
Can you help with our fund raising?
Know anyone who can?
We have had some great donations of raffle gifts from local businesses. We are also privileged that Yateley Town Council has given us a grant which has covered  an exceptional speaker for the students' special assemblies in September and a former student has facilitated all the online  ticket purchasing.  All our sponsors are shown at the bottom of this page. We are now hoping that there are some business or individuals who may be interested in helping us cover some of the costs of the events we are running. The more costs we can cover the more profit we will make for our fund raising toward the refurbishment of the students' toilets. Can you help or do you know anyone who can?
---
---
Donations
We are grateful to the following people and organisations that have donated generously to make our birthday celebrations a success (and, we hope, profitable!)
Follow us on Facebook
1000s of followers looking forward to the celebrations. Just head along to our special Yateley School 50th Birthday page
---
Enquiries to birthday@yateleyschool68.co.uk
---
Former student? Even if you can't get involved or it's just not your thing, we'd love you to join our alumni network and stay connected with us. We won't bombard you with mail and you can opt-out at any time. To find out more and sign up click on the FutureFirst logo below!